Calcutta - Kolkatta
More amazing every time
Below are pictures of the street scenes in the city, collected over the last decade. Microeconomics flourishes here in small one man shops. Every street is bursting with small grocery merchants, vegetable and fruit sellers and purveyors of all the daily needs of life. You don't have to go far from your doorstep to get just about everything you need.
Kolkatta has become the spiritual and economic base of Sarisafari. Somehow our fates are tied. While it hasn't been the easiest place to do the export business from, she holds me in some power now. The place itself makes it hard, the city is always on strike, the traffic jams are impossible. It is unbelievably crowded and polluted. Being there makes me ill. But the benefits are immense. Home to my beloved Bengali handlooms, the merchandise and selection is fantastic, my brother Nilesh is handling the export, how could I go anywhere else?
| | | |
| --- | --- | --- |
| This man sits in a 3 foot square area, rolling out puries and constantly refilling a big wok full of bubbling oil all day, and at 5pm still manages to have a smile on his face for his customers! | This is one stop shopping in a six square foot store. What is it you want? | The sweetest sari assistant ever. He is deaf and can't speak but can communicate anything and is totally on top of what you are trying to convey. Kolkatta sariwallahs can talk you ear off. He is such a welcome change to the normal babbling. |







Typists for hire. Whatever documents you need typed in triplicate, these are your guys.

Ramakrishna Paramahamsa's blessings in every bite of sandesh.



Sightseeing boats in the murky sunset at Babu Ghat on the Houghly.

There is just a particular atmosphere to this place. It is thick, things are extremely sultry and dense feeling. This stuffy old book store has survived a century on this street - it's door open to the plumes of smokey cars going by for decades. The place has a patina.



| | |
| --- | --- |
| Skilled tailors can stitch 4 to 5 full suits per day plus other miscellaneous duties and dealing with the throngs of customers demanding things from them. | These vehicles make the atmosphere of Kolkatta very special indeed. |
Bengali Handlooms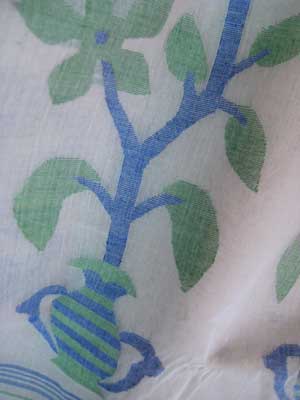 The sultry hot climate of the Ganges river delta is most comfortable in soft airy cottons, so the region's textile reputation is founded on fabric with a lightweight and fine weave. Watching the graceful Bengali ladies in their sheer muslins is so wonderful. They have a reputation all over India for being graceful and cultured and I certainly have to agree. It's absolutely amazing to note how neat these women can appear, even after wearing a cotton sari around all day!
Some weaves have highly evocative names! Jewels ranging from the quintessential shamam (evening dew) to the delicate baft-hana (woven air) to the remarkable abhiravan (that which cannot be distinguished from running water) and the delicate chandra (moon). The shabnam was so fine that if spread on grass, it would not be visible to the untrained eye. In modern times Bengali handloom tradition flourishes as jamdani, with beautiful extra-weft decorations on a fine and airy woven field.
Dhakka muslins are uncannily sheer. Tangail or Jamdani sarees have supplementary threadwork, added with needles on the loom. Tant or "handloom" styles have wide intricate figurative borders in multicolored silk threadwork and are a very gauzy gauge cotton field. They are usually worn starched to keep the pleats in order for a day of wearing in a humid climate.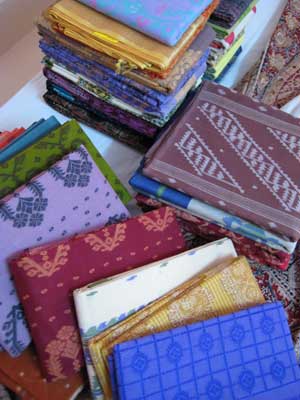 The most important weaving centers in W. Bengal are in Samudragarh Tulia, Mugberia, Muradili and Dhatrigram.
The pattern is drawn first on paper and then is pinned beneath the warp threads. The designs are worked in like embroidery with bamboo needles. When the pattern is continuous and regular, as in the usual sari border, a master weaver generally dispenses with the aid of paper patterns. Very often two persons work together on a jamdani sari. In the past, the finest and most open weave saris were washed using a very special technique known as kanta dholai, in which a forked instrument is used to maintain the thread spacing uniformity of these intricately patterned saris.
Traditionally jamdanis were woven in natural cotton colors with one or two supplementary thread colors. This traditional aesthetic continues in the enduring preference for a more understated color pallet for sarees. A very classy look pervades! Men too wear very crisp and billowing dhoties under thigh length kurtas in white.