About Us
When I first stepped off the plane, into the dusty Delhi night, reeking of smoke, dung, diesel and everything else in the world, it was instantly, eerily familiar. Rajasthan was the most beautiful place I'd ever seen. Hindi, miniature paintings, raga and the textiles! I was hooked, of course, winters in Portland are grey and wet and that's the perfect weather time in India. She just keeps drawing me back deeper each time I visit.
In between trips I craved Indian textiles and noticed that there was no in-depth website about sarees. Indian merchants focused on fashion sarees, not the village crafted, rare and interesting type of textile nerd stuff that I was craving. I had been earning my living as a web designer, so it was a logical step to build SariSafari. The website has become a way to document the things I learn and as a source for others to share in this rich textile culture.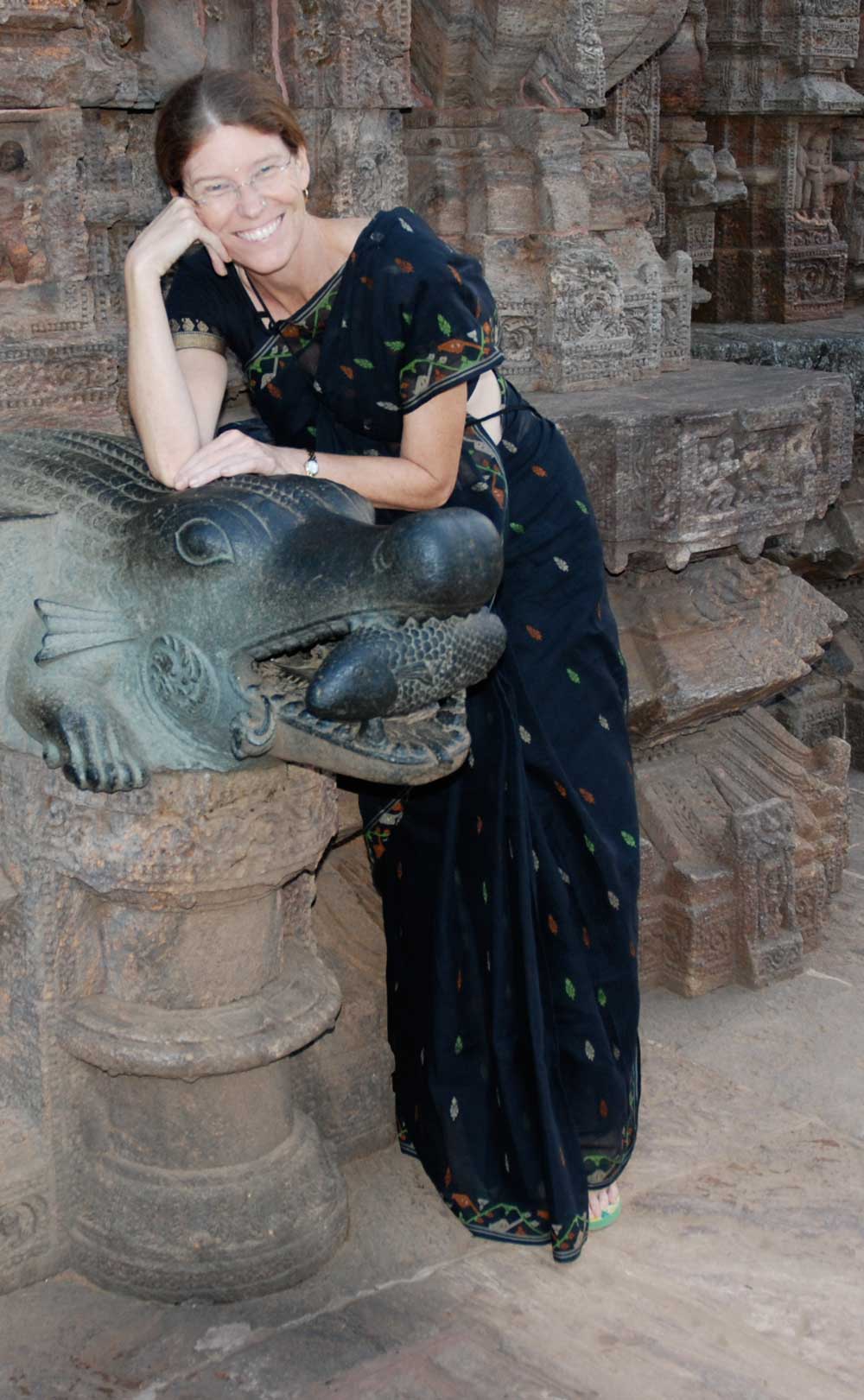 Melinda at Konarak Sun Temple in Orissa.
Many of the pieces I carry are hard to come by. I really go out of my way to get the obscure stuff, to sleuth out new things I've never seen, learn about them and share what I learn. There is no other cloth on earth as widely varied in style, ornamental structure, fiber qualities, weave, print or embellishment technique as the Indian sari.
Why shop at Sarisafari's Sarishop?
If you compare Sarisafari with other sites selling sarees on the internet, you'll see many differences. The Sari Safari Sarishop is structured region by region with a mind boggling variety and selection. I hand select each and every piece out of thousands - distilling the selection to the most beautiful and harmonious of each style.
The Sarishop is not just a store, it's a learning experience and a travel story! My mission with this venture is to preserve the weaving traditions of India. They are enough to sustain a fabric junkie for a lifetime.
Why else? Standards are different in India. Things are grungy, dusty and disorganized. Stock needs to be checked and double checked for damage. I do my best to quality control and verify the fiber content of every piece that I offer. This you will not get when you order directly from India. I buy only quality pieces targeted for western tastes with a designer's eye for colors and styles that flatter in our fashion sensibilities.
Namaste - Melinda Williams