January 2009
The Ilkal sari of Karnataka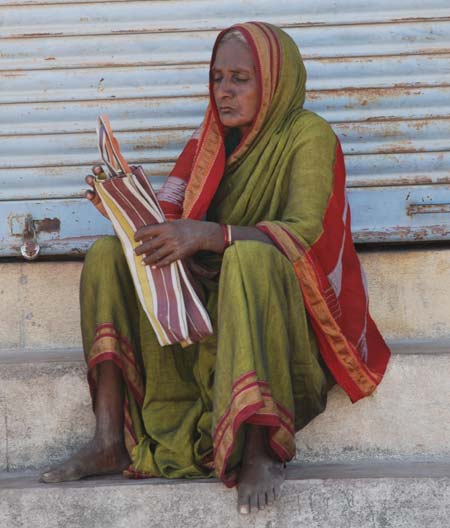 We arrived in Bellary train groggy at 5:30 am and sat in the station drinking chai and waking up a bit before we set off looking for a hotel. The rikshaw men outside the station, droopy and sleep stunned at this hour, weren't very eager. We finally roused one to take us. We found some silly luck this particular morning, as regional school exams were going on and all the hotel rooms were full of students. So we pedalled around from inn to inn and finally found one just as it was getting light.
It's always quite something to arrive in a new town and go out to see what the markets offer. Right away in Bellary I saw that the hunt was not going to be easy. Only polyester goods hug in shop windows - not many of them looked promising. We asked a moon faced policeman where we could get Karnataka handlooms. Smiling and proud to serve his state, pointed us straight ahead, as usual and with the name Kalanjali in mind we walked and walked - asking in all kinds of not so interesting looking shops meeting mostly no not here, no stock, any other shop, you try this place.
It was delightful to turn down a narrow lane onto a whole block of small cloth merchants. The foot lane going through the middle of it was flanked by treadle sewing machines and tailors sitting at them beneath the stoops of small shops. What a perfect arrangement. We asked many a friendly merchant but they had only chamak-dhamak. They don't get many foreign visitors here and we were quite the spectacle. The last shop we visited in the little market told us the name of another shop so we went in and found finally a bit of stock to chose from.
As we walked in they all looked stunned, not knowing what to do. Then as in a jolt the head sales lady pulled rank and told the others to back off her customer. I kept explaining what was wanted but they kept throwing everything else at us. This was a shop full of people suddenly unloading armfulls of sarees onto the counter. They were climbing on chairs taking stock down from the top shelves in stacks. It was quite a circus! Finally I saw the right sarees on another shelf, and pointing madly to get their attention got to see the Ilkals and Banhattis. After picking through the stock it turns out they only had a few nice colors, but I was going to buy them. As I was attempting to communicate the suggestion that they might have more in a storeroom somewhere or might call their suppliers to try to find more of these for me, that I would buy them and all, one chap came over and started arguing with me.
He was a large man for this region with a strange large bump over his eyebrow. Just next to that a black tikka which rendered him quite off center. He had marvelously bad teeth also and a slurred paan-Hindi. He must not have really understood what I was asking, because he was totally off subject and eventually grew way out of line. The more I spoke the louder he spoke over me until we were both almost yelling. I got quite sharp with him "Areeeeh bhai, you aren't listening, I am only trying to ask you to call your suppliers, etc." He started thumping the sarees and telling me you won't get this quality anywhere else, etc.
This was one wierd fight with both of us arguing over two different things. He just wouldn't back off. I said, excuse me I am a customer, I want to give you money now, why are you yelling at me. So I just walked out. The entire store came after us yelling "aao madam aoooo!" We walked away from about a dozen passable pieces. It was time wasted, but there was a point to prove. Bellary was too hard of a nut to crack in one day and didn't look too promising anyway. On the way back we were still looking for the famed Kalanjali that the cop had told us about. It was neither on the way down the market, or back up, although we asked all along several times in both directions and we were always told "straight". Alas, the fabled Kalanjali, the shop of dreams that had all the handlooms was not findable. At least not in one day, not today and not in Bellary.
Further sari wrangling in Karnataka.
Dejected but not without a telephone number for some director of Bellary weavers co-op, I called a Mr. Prakash and got a nice Mr. Dobodo who offered to contact his colleages in Ilkal. Mr. Dobodo came to meet us in the hotel and told us that once they wove some sarees in Bellary but now only produce towels and lunghees. I asked him about local supplies of Ilkal sarees. He didn't think there was a market for them in the small town, that there would be no stock available and that we should just go to Ilkal. He would arrange the weavers to meet us and take us to see the production. The best place to stay would be Hospet, about 72km from Bellary, so we got on a local bus early the next day checked into a hotel in Hospet.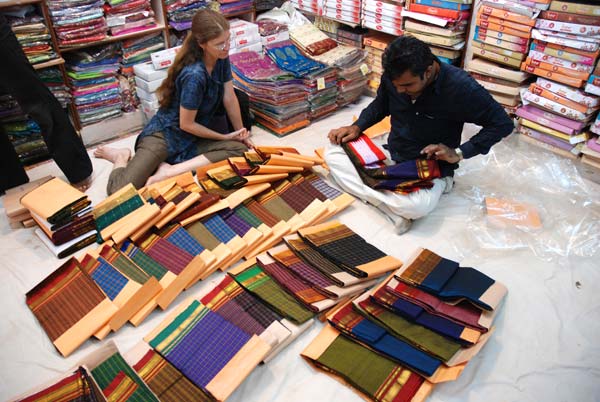 Last year I visited Hospet to see if I could find any local handlooms as this region used to produce sarees. It is also the railway stop nearest to the spectacular ruined city of Hampi. Back from a few days wandering the ancient site I checked into a hotel in Hospet for a couple of days of work. I set out in the morning at 10:30 when the shops start to open and went around inquiring about local handlooms. On the streets I saw women wearing some very distinctive sarees that I had first seen while in Mumbai. Asking about that sari in Mumbai, I was told it was a Pune sari. Pune sarees have a similar lustre of blended rayon and mercerised cotton and very similar borders - it is easy to see how they could be confused with one another. But Ilkal sarees have a very distinctive pallu. It is unique in its very flag-like white stripes. The jaggy teeth of the edges of the bands instantly evoke a certain feeling of place. This aesthetic, draped over the head lends an irridescence to the face of it's wearer, rendering her larger than life. Perhaps it is also the dusty and dry red earth landscape that adds yet more magic to the mood of this sari in this place.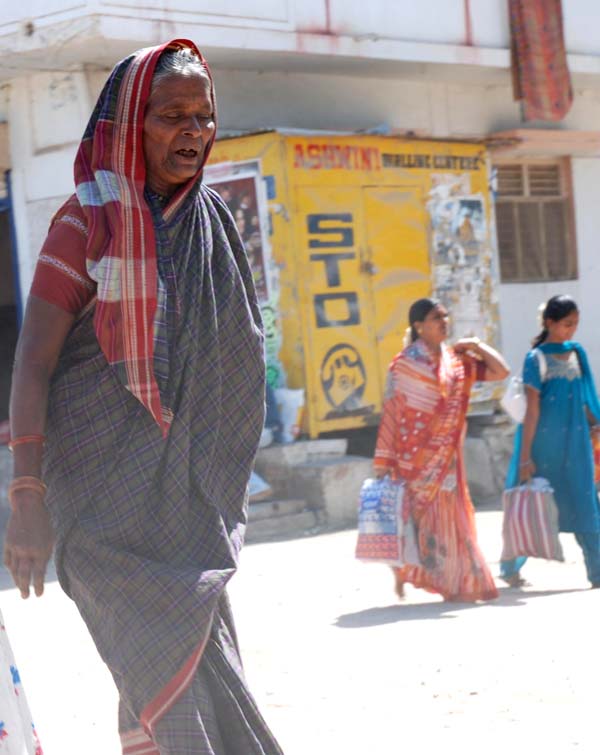 Ilkal is another 80 km from Hospet and judging from the long bus ride from Bellary on the bad road we opted to hire a taxi. We were glad we did. Although the driver had no sense of the jerky ride he gave us, as he whizzed around truck after truck after bus on the potholed, speed bumped road, we were happy to make the journey in two hours instead of four.
We got to the little town of narrow dusty streets at midday. It was getting hot, 35 degrees and very dry. I got out of the car to wait at the corner where Mr. Gopal would meet us. A woman dressed in an Ilkal sari sat on some steps in the narrow strip of noontime shade available. I walked into the shade and she pointed to the stair - sit. Some fellow came up and asked me "from madam?" - I answered him and he kept on asking me questions, then when I told him we were here to see the weavers he said his is also a weaving family, and sat down waiting with me for Mr. Gopal. Soon Gopal came on a motorbike and he and this random man got in our taxi and we went to a co-operative building where we were shown the sarees this society produces.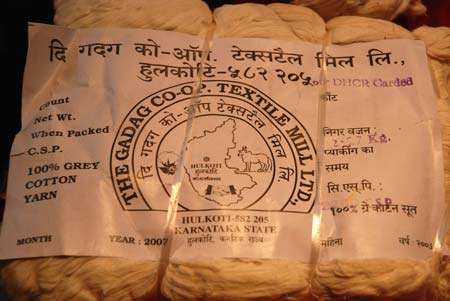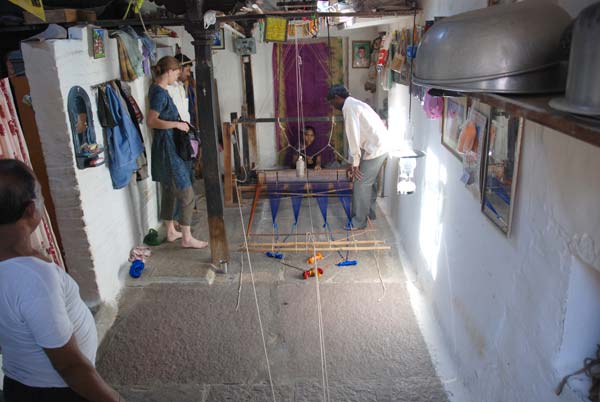 The family eats, sleeps and plays in the narrow rooms of the traditional houses in the village, in and around the loom.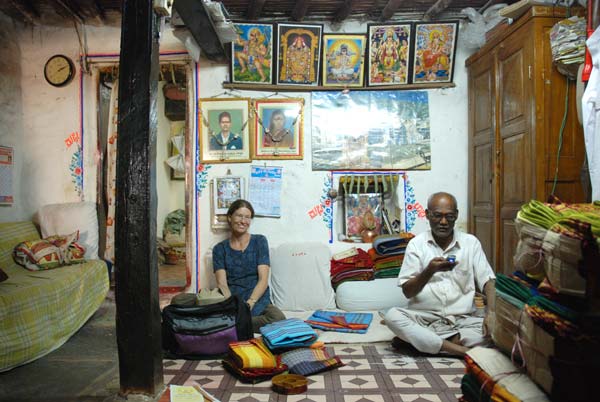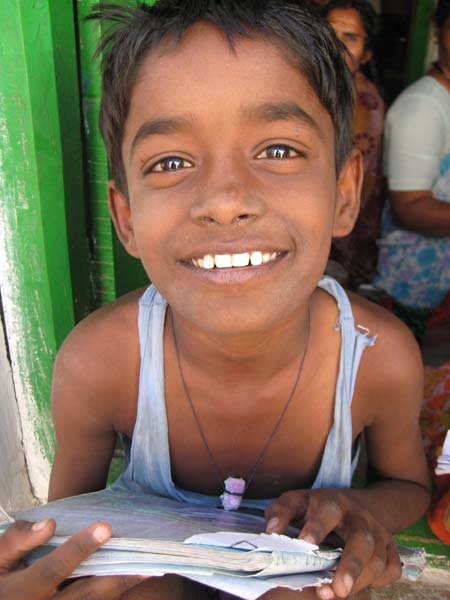 Ilkal employes over 2000 weavers in 8 different weaving societies. Expecting a much smaller area of production I was astounded to hear looms going in all the nearby houses. From the blazing sun reflecting on white buildings we entered the cool finsternis of an old society building. Tall wooden cabinets full of raw yarn, bundles of sarees and weaving supplies were scattered around. Clerks worked at floor desks, sitting cross legged on floor pads with white pillows to lean back on. All the pillows had tikkas and swastiks and said "shubh labh" - wealth/prosperity. Garlanded deities looked on from all walls. A few men in white dhotis and baniyans seated on white cushions looked up from their counting desks. The atmosphere is a place out of time.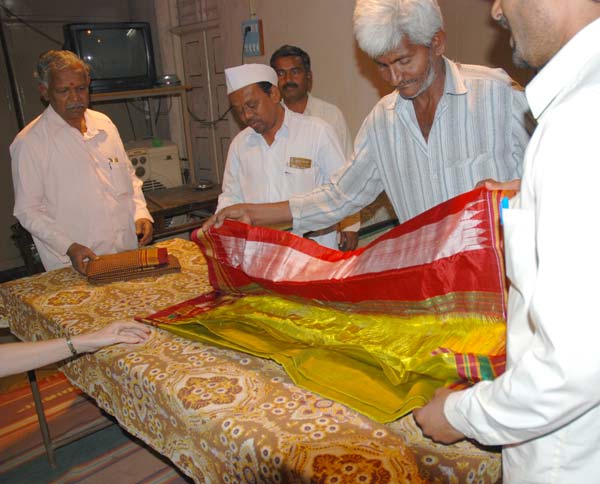 We were lead to an adjoining room and shown the sarees made in this co-op. We saw very shiney rayon/cotton handlooms in 5.5 and 8 m lengths with bold pallu stripes. There were 6 men all talking to us in varying qualities of Kannada Hindi so it was quite a verbal jostle going on. One fellow would state a fact and the other would try to reiterate it his own way or to try to clarify something. They contradicted and questioned and argued points. In between the comedy we got a few bits of data!
The sarees have silk pallus and cotton/rayon grounds and borders. In olden times only cotton and silk were used, but now rayon is favored, because it is cheaper to use and the market favors the shiney aesthetic. The ground color warp threads are most usually black cotton, the weft is rayon.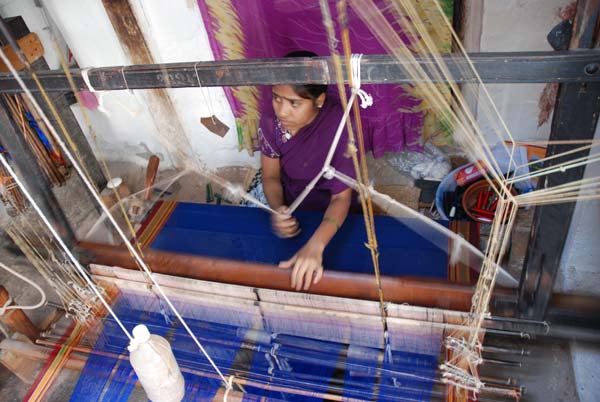 The classic Ilkal sarees of this co-op are made on older, very traditional looms equipped with flying shuttles.


A must in every bride's trousseau was a Chandrakali saree - indigo-black with a crimson border and a crimson tope-teni pallu was presented to her on Sankranti. The ground fibers were dipped 14 times in the indigo vat to get the particular hue of black-blue. Now these colors are made with synthetic dyes. Some efforts are being made to restore indigo dying but it is time consuming and costlier to produce.
The different styles of "teni" or spokes at the extremities of the white bands of the pallu are named after their shapes like "hanige" or comb tooth, "koti kammli" or fort ramparts, "tope-teni" or jowar/sorghum-shaped and "rampa" or the shape of a mountain range. The pallus are woven first and require much hand manipulation of the red and white silk shuttles to get the symmetrical sawblade edges of the stripes.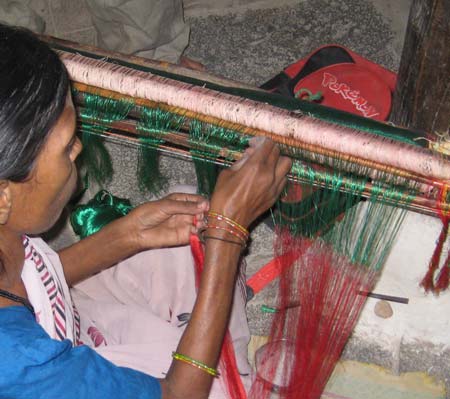 The color change of silk pallu requires a join in the warp. The technique is called "kondi" or locking, The threads are hand tied on end by end - there are 5000 plus ends in the sari. Someone experienced can tie these in 2 hours. Imagine 5000 knots. They dip their fingers in ash water as it helps bind and compress the threads as they are twisted together.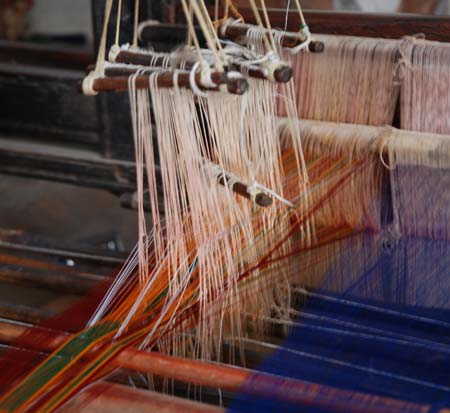 The border designs, called "chikki" or small dots like stars, and Gayatri, with an open border and spaced rows of round motifs are the only borders they use. The border designs are rendered by sets of narrow heddles serviced by a simple hand strung mechanism built over the loom. They are typical pit looms with flying shuttles. The secondary or tertiary ground color to make the check is thrown by hand in between counted pulls of the flying shuttle. Plain ground sarees can be woven in a day, the checked wallahs take double the time and are called chaduranga chikki (chess spots).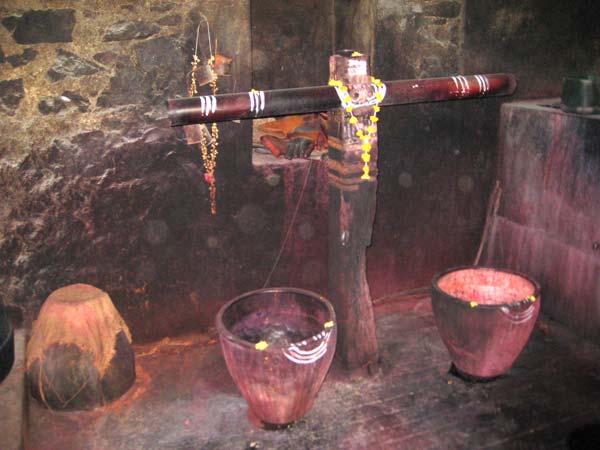 Shrine like dying area, cool and dark with the richest color walls and floor I've ever seen.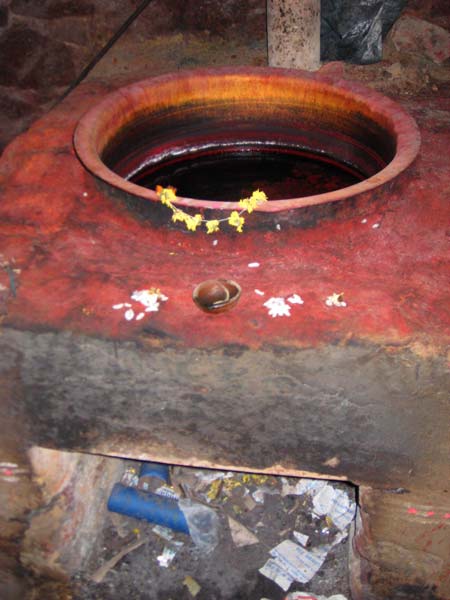 In the cool damp back rooms of one society we could see the dying area. There were two fire pits and pots. One for colors and one for black. A large T bar with Shiva puja tikkas stood ready, for some serious wringing of the threads. Black cotton is the most used ground color, the reason I was told is that it goes with everything. The rayons come already dyed from the supplier. These particular sarees had more of a weft faced look than other Ilkals I'd seen and was told that this was the original aesthetic. Another fellow in Hospet told me that the sarees used to be woven in pure cotton grounds instead, which is a more balanced fabric so once again we might never know the truth of what is what in Ilkal.
Somewhere in between visits a young man appeared who spoke very nice English and seemed to have some more articulate ideas about things so we were happy to have him join the increasing entourage of co-op officers, weavers, curious kids and the random farm animal. We ended up going to his family home and entered into a complex house crammed with an extended family of more than 30 people. There were four older brothers 60 and up with all their kids and wives, plus the grandkids and wives and all the grandchildren. There was a young woman pregnant and a five month old being swung madly in an improvised laundry line cradle. They are of the Swakull Swadi weaver caste, so this is what they do and have done for as long as even the old guy's grandparents can remember. People came and went continuously. The house was open to everyone, and everyone came to get a look at the foreigners. We were offered a fresh lime drink and village lunch. I didn't eat enough in their opinion so they ordered a fresh coconut water for us too. The food was very spicey!
In the lull after lunch, the interloper who had first inserted himself on the street corner was still going on in garbled Hindi about obvious and uninteresting points. As he jabbered on we sat not listening, nodding at correct intervals and enjoyed the atmosphere in this old house. Then suddenly from a corner of the room "Oh look - madam here is your website!" The young man had taken my card and had loaded sarisafari.com onto his laptop. Crazy world!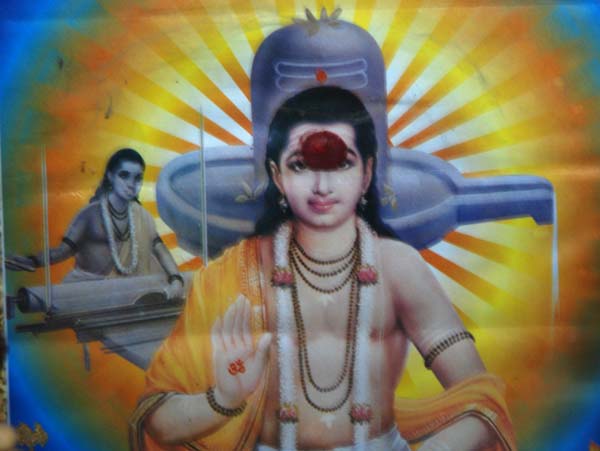 The family shrine features the weaver of Shiva's lunghi.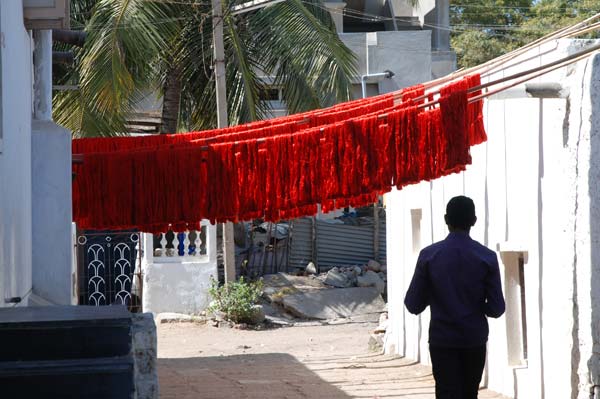 Their family oral history is of weaving these sarees since at least 300 years. But as our young fellow pointed out, who can really know - it is probably much longer.
Power Looms in Ilkal!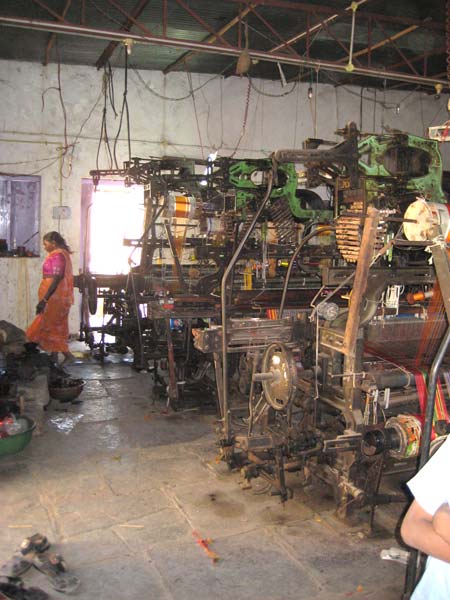 A very recent addition in Ilkal - very loud, very cheap, incredibly productive and not really so nice. With a dozen of those things clacking at once you felt like you were inside a locomotive.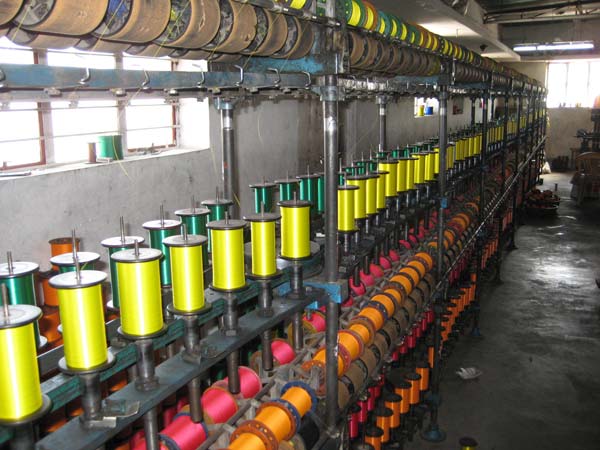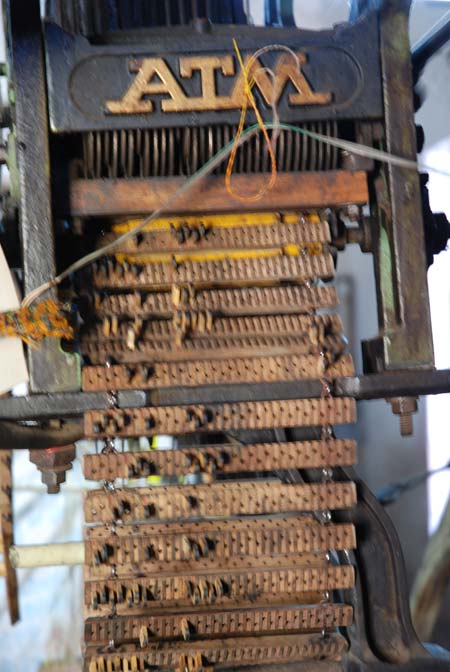 Wooden punch card system for border patterning.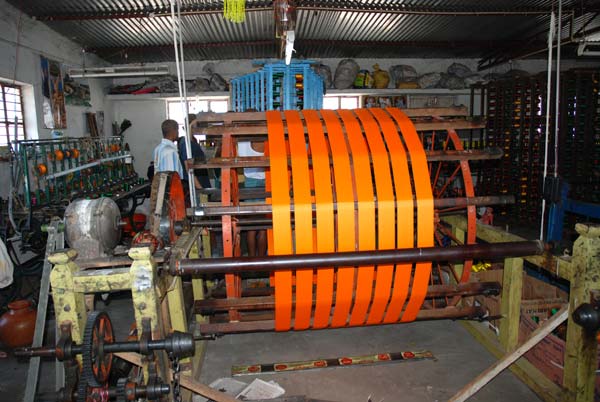 Warping for big production! 50 sarees woven on one continuous warp!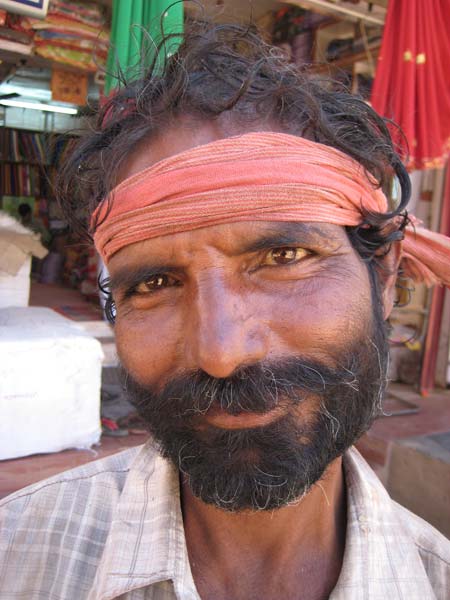 Hospet cycle rikshaw wallah asked me to take his photo. Now he is famous
Back to the textile tour start page
All images and text © Sarisafari