Practical Pieces from Peaceful Places
The Towel Weavers of Chandanpur
Many years ago while staying in Orissa I saw some beautiful handloom towels in pure cotton. I bought a few and have used them for years. The perfect hair towel gives you a tight twist that easily stays turban like on your head while the mane dries. They also dry quickly, pack small and are something to sleep in and wear as a beautiful scarf! Last January I started asking around while visiting Orissa and learned of two nearby weaving clusters that make them. So I set out on two different day trips to visit the weavers.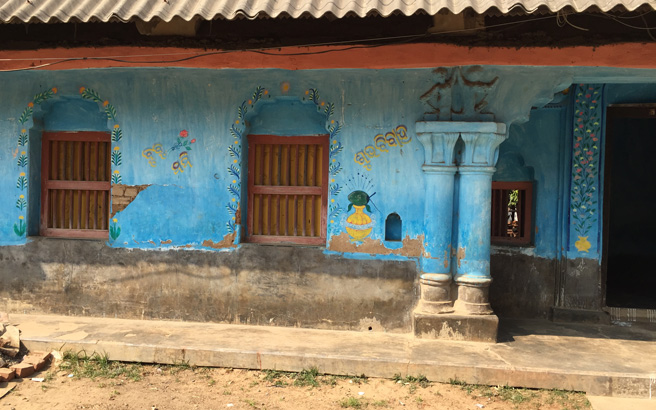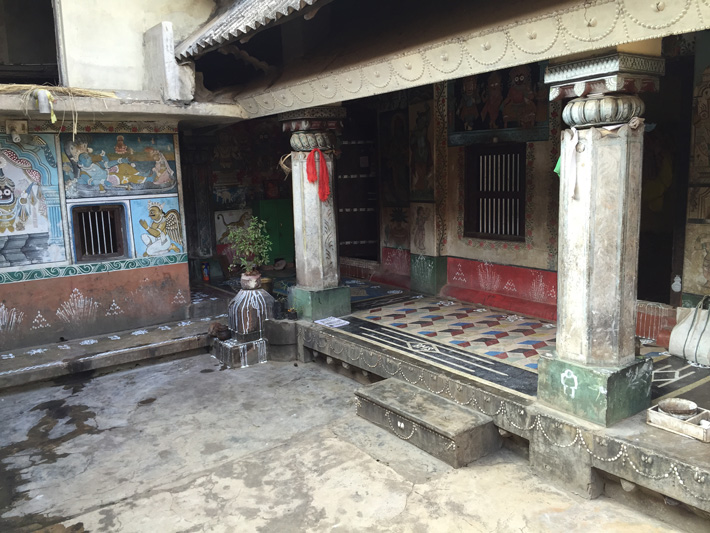 A small village of weavers and farmers, Brahman Allandia is one among a cluster of villages settled by Brahmins from the West to service the great Jaganath temple, consecrated in 1230 AD. These are Model villages conceived according to the Vedic principles of Vastu, and optimized for ritual worship with Lord Shiva on one end and Lord Gopinath on the other. The houses lie along a precise line from either east to west or north to south, and have elaborate stone pillars and porches in front.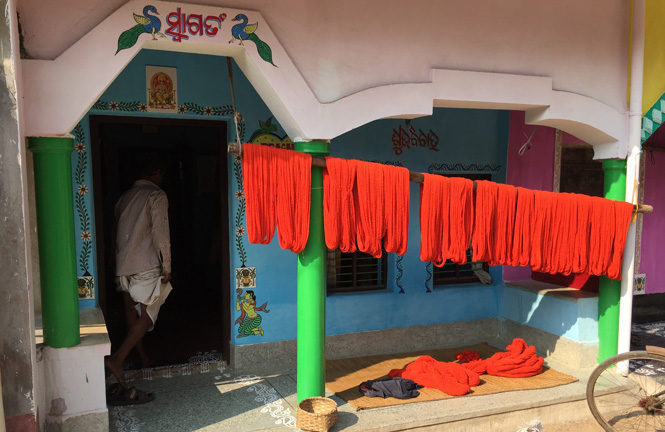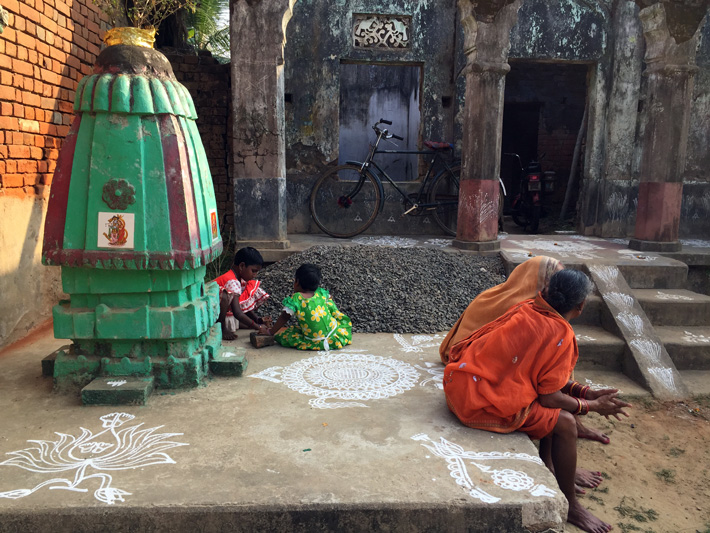 With the tuktuk engine roar away the peace of this village settled in. Looking around it seemed to be locked into a timeless antique state. The primary sound was birdsong and occasional bleating of a goat. The air was fresh and fragrant with fertile greenery. The peace lasted only a few seconds though.
They get very few visitors here, soon the entire village came out to see. Even an older fellow napping in the warm sun of his porch, sat up and stared. Soon we were greeted by many excited kids. Everyone just sat around and then eventually got bored by us and things returned to their normal peace.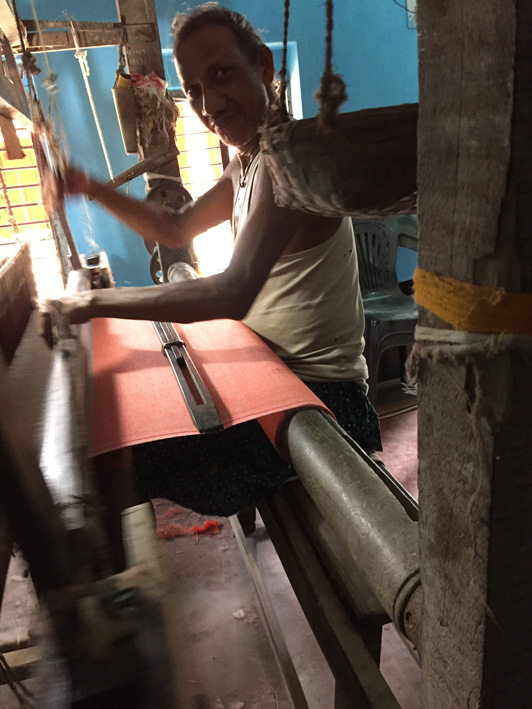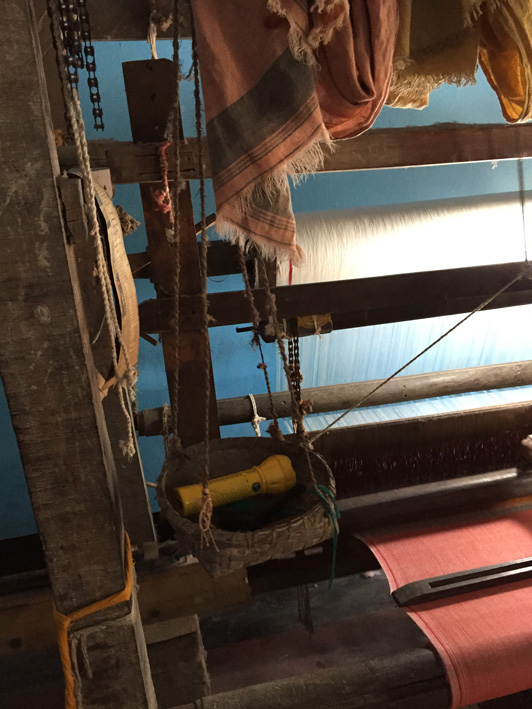 With our rikshaw driver acting as interpreter, we were ushered into a weaver's home and workplace. The house has a big room in front housing the loom, with storage, sleeping and kitchen at the back. The upright loom is made of heavy wooden beams and equipped with a fly shuttle.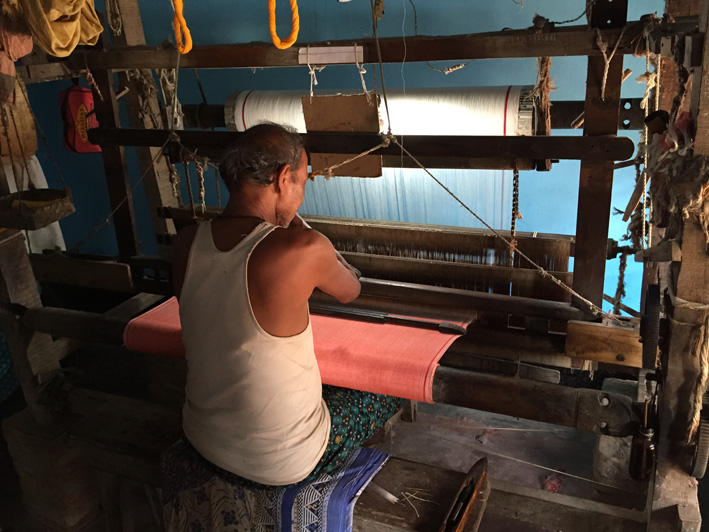 The beefy warp beam can hold almost a hundred gamcha lengths, so he can just keep chugging along. The rhythmic sounds of this nature-made machine lure you into a trance. He can make three normal length gamcha in a day. The white warp mixed with the bright red makes the very signature orange of these finished gamchas.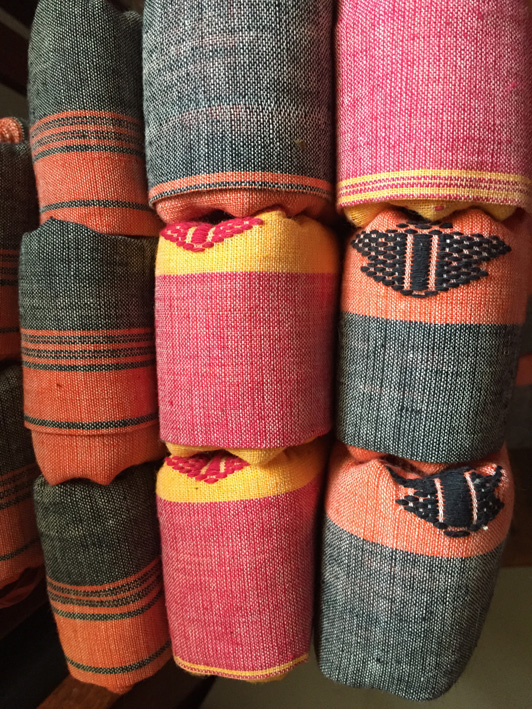 These plain ground towels have a distinct ornament on one end that looks like a butterfly, hence the name "makki gamcha". These super soft, durable and incredibly fine towels are revered by locals. They swoon when you present them with one. Outside of Orissa no one knows about these towels. In fact, sarishop.com might be the only place on earth where you can get a makki gamcha, handwoven in Brahman Allandia, Chandanpur district, Orissa.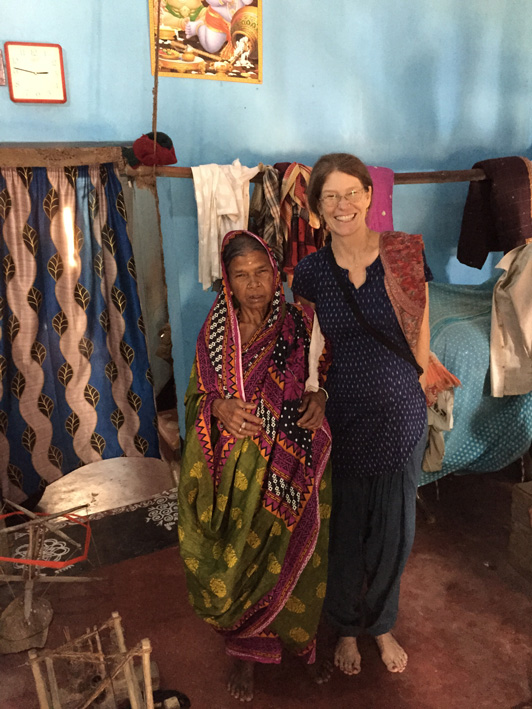 The whole family is involved in keeping the loom going. Shown are the very simple skeining and spool winding wheels. This village is so incredibly peaceful and pure with very little of modern life in the optics surrounding you. One can step back in time and imagine that things didn't look all that different in this village when it was founded eight centuries ago.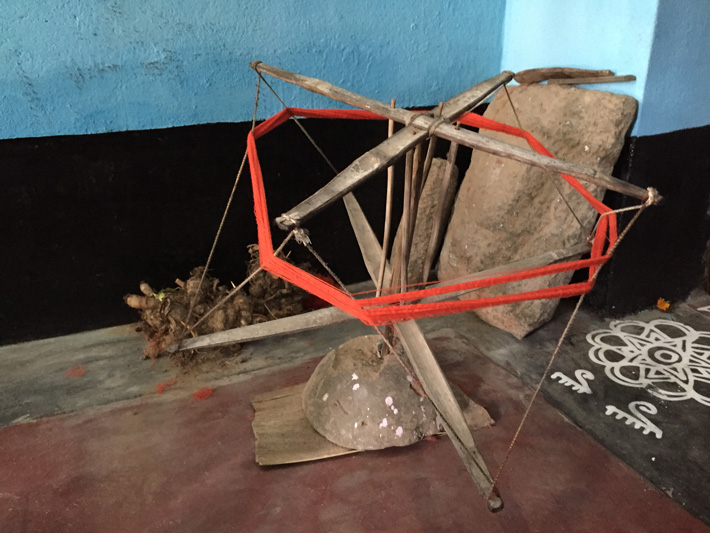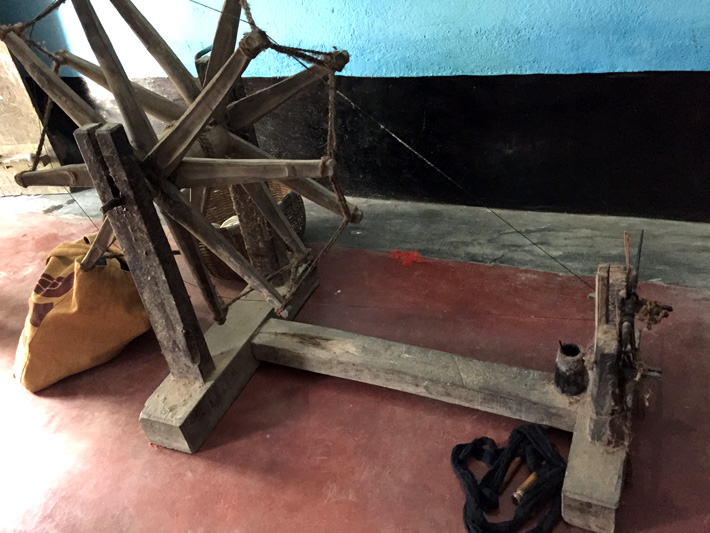 Khorda Gamchas
Showing my friend Debu the one of the towels he told me about another amazing gamcha from Khorda of all places. Now Khorda or Khurda on some maps is a little town to the south of Bhubaneshwar and is more known for its railway connection. I didn't know that they wove anything there so I quickly set off to see what I could find. My luck was bad because I'd unknowingly picked a local holiday - a half day. I got to the little town just in time to see the shutters all coming down - the gamcha wholeseller was just about to close. He obliged me and remained open and I could get some absolutely unique Khorda Gamchas - replendent with official stamps (that wash out) denoting their genuiness.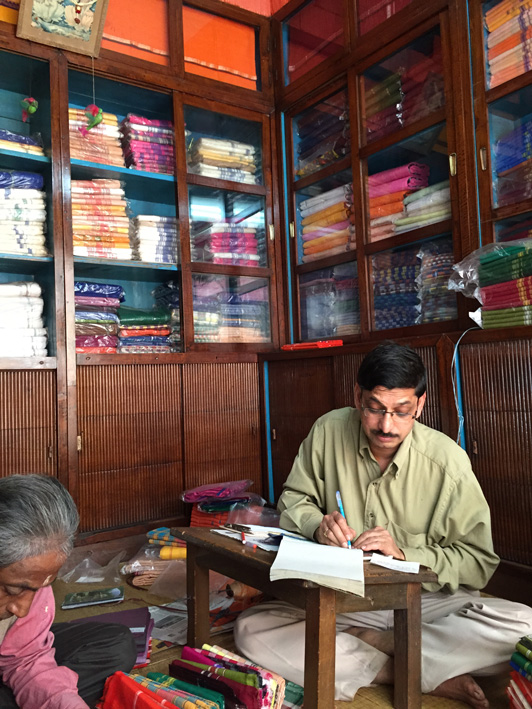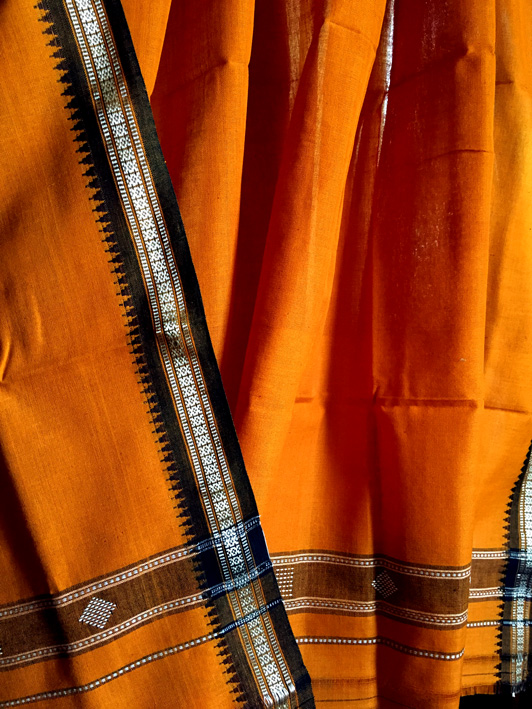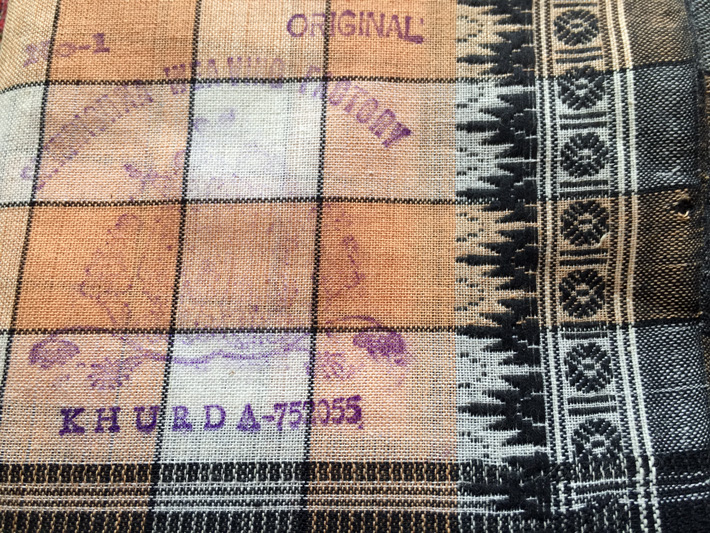 The gamchas from Khorda are a bit of a lighter and finer cloth, very similar to the towels I have found originating in Sambalpur. This wholeseller turned out to have some great selections of handloom towels from there as well so I could really make a nice collection and my long travel time was not at all wasted.
Orissa is a very rich textile heritage state and these "Gamcha" are practical and affordable, so demand keeps the industry going. Along with these Orissa beauties, I have added a diverse collection of towels from all over India as well.
You can find an exclusive selection of soft and supple handloom towels in the Gamcha - Towel section in the SariShop.