Odissi Sarees
The miracle of ikat weaving
Ikat weaving is one of the most complicated and time consuming ways to pattern cloth. The weavers of Orissa are highly skilled in this centuries old tradition. We met the Bhima Patra family of Sambhalpur, a region in the North Western corner of the state. Their weaving center employs 400 looms, mostly housed in family huts in villages in the area.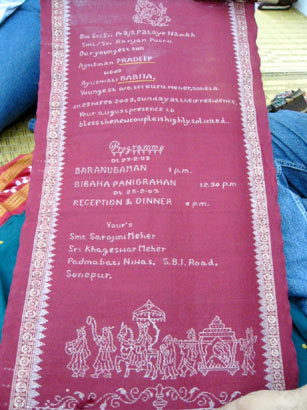 When a son of the family got married recently they decided to do the wedding announcement in Ikat! The text is in english and Oriya, perfectly executed!
The knowledge and expertise to design sarees in this style lies primarily with the patriarch of the family. Knowing what's possible at all, how long it will take, and who is able to do it is a skill in itself, for the work is exceedingly complicated.
First the design is drawn out on paper to convey the pattern to the weavers. The weavers then lay out the warp or weft threads to be patterned on a frame, which has to be just the right size to achieve a repeated pattern. Then the threads are tied up. This is usually with very tightly wound on strings or even bicycle inner tubes for longer sections of resist. The threads are then dyed, sometimes in multiple colors baths - which require separate tie ups. After final washing and drying and sizing. The weft threads are then wound onto spools for later weaving and the warp threads, which are mostly seen in border ornaments, are tied onto the loom and wound around the warp beams.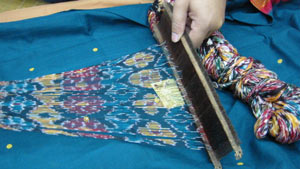 An example of ikat worked border patterning that will eventually be wound onto the warp beams on the loom
As the pre dyed weft yarns are woven into the cloth, the pattern magically reappears. Its just amazing that things line up the way they do, that all the measuring and dying and spooling can all be planned so well. The tools are primitive, they haven't changed since hundreds of years.
The string heddles are simply and ingeniously made with bamboo - and connected to foot pedals in the pit. The handmade comb is spring fitted into the beater frame and is made of needle thin strips of bamboo. Weavers achieve very fine thread counts - 120 to 130 per inch! with these types of reeds.
| | |
| --- | --- |
| The typical temple border is created by eye and hand and years of experience. Two weavers working in sync, each create the temple border on their side, interlacing the black and red threads, and tossing the red shuttle with lightning speed between themselves. Two sets of bamboo sticks criss-crossed and tied function like a stretcher bar to maintain the uniform width of the cloth. | The remarkable speed and skill of the weavers creates a peaceful and serene atmosphere. The work progresses slowly, it takes two people about a week to weave a sari and a few days of dying and preparation of this simple style. More complicated ikats can take up to 35 days per sari! |
Bomkai was the original sari of India and was created with very rudimentary looms in coarse cotton. These sarees are still being made in some places like Siminoi, Kotpad and Habaspuri. As the technology has advanced Bomkai has come to mean something quite different. The modern Bomkai is a flannelly heavy gauge cotton sarees woven with complicated jacquard machinery. These are grand textiles with elaborate supplementary thread worked borders and pallus, and often combine ikat work for textile beauty that will take your breath away. You can find a selection of beautiful Odissi sarees in the sarishop
Further reading from Orissa:
The natural dyers of Kotpad and the weaving villages of Barhampur, Pittal and Boirani
All images and text © Sarisafari