Sari Sisters share their thoughts
It is always a joy to receive your email and stories of life with your sarees. Below is a selection of some of the most inspiring notes from friends and customers.

Hi Ms. Williams,
I've ordered 5 sari's in the past and finally got the courage to wear them outside of the house.
The first thing that happened was at the airport where they make you go through the security station. It beeped like crazy. I took everything off (jewelry), then they pulled me to the side and swept the wand over me and it kept beeping and finally I remembered the gold in the pallu and trim.

The second, third, fourth thing that happened was at the casino. First night an Indian guard came over to me and wanted to know where I was from. He was from Bangladesh. Ultimately, he thought I looked exquisite. I don't think I've ever had anyone tell me that!
Then the next night two cleaning women from India approached me and wanted to know where I was from in India. It took a good 10 min. to convince them that I didn't come from India. But they thought I had because my sari was wrapped so well and I looked so comfortable in it. They thought, at the very least that I had an Indian friend who taught me how to wrap. Actually I learned it from the book: "Saris: An Illustrated Guide to the Indian Art of Draping". They were astounded.
Then, the third night, I met another Indian woman at the buffet. She was a server. She recognized that I wasn't from India but she loved how I looked in the sari. She thought that my long top (a heavy burgundy tee) looked great because it covered my belly (of which I have quite a bit). I told her that I felt that my belly should be covered and she said that her mom was a big woman, bigger than I, and she never covers her belly. But, at any rate, the long shirt really looked nice and she figured that she would try a longer shirt to see how it looked on her.
Well, then the day after I had to return home I went to Wal-mart to pick up from the pharmacy. The pharmacist, George, shouted, actually shouted, across the expanse of the lobby that I looked great and was much too fancy for the likes of New Hampshire. As you can tell, my head is really big now.
Thanks for your wonderful sari's.
Raven

Dear Melinda,
thought you should know where your creatures travel to: I wore the mehndi jamdani with white and black designs last night to a concert and dinner in the garden of a beautiful villa near Siena called Geggiano and it didn't rain. I chose the sari from the four I have with me without realizing it's somewhat the color of olives on the trees just now and fresh-pressed olive oil. It was perfect for the heat and later in the evening perfect for the breeze. Very comfortable, too.
All best from here,
Gini

Dear Sari Safari,
I wanted to tell you how much I am loving the beautiful blue Maheshwari sari with orange shot. (And really quick service!) Such amazing cloth and, thanks to the information on your site and the excellent choli and petticoat I also purchased from you, I'm able to wear it the right way. And what a delight to be able to wash a new garment and know for sure that it will still fit! Why don't all women in hot climates wear saris?
Bridget C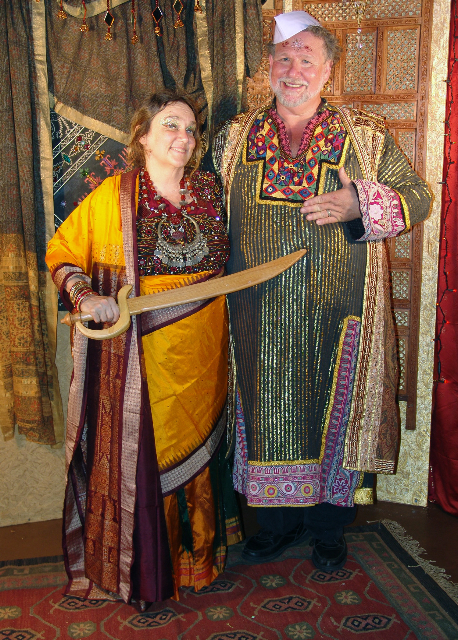 Here's a picture from the Unitarian Universalist Church of Berkeley, But Really In Kensington. i was one of the organizers for a fund raising night called 'Passage To Bollywood'. i a wearing a silk SariSafari-skirt, a silk SariSafari Sari and there's the cotton SariSafari Sari draped behind........ Many other sari & sarisafari goods were draped all over the halls.

Melinda, you are the most awesome Sari Guru!
Alaisande and her Consort Jim

Dear Melinda,
Thanks for your quick response to my order and your ingenuity in saving me money on the shipping. The sarisafari site is a real work of art. It made me feel like I had just spent a year in a textile museum. Thanks for offering such exquisite pieces.
Kind regards,
Janet

Thank you! I've been wanting to write for a while -- and I really mean it, your site in amazing. Look around the internet, there is nothing else anything like it anywhere. No one else that I've come across offers the gorgeous selection of cottons. As well as the extras: dupattas, dhotis, bedspreads, and now those great turbans. And then the fact that you put it all in context with the background and regional information -- and even describe the weaving, the traditions, the cultural info, etc., along with the occasional story in your email (like the recent turban wallah!) all this really makes the site quite educational. My friends seem to assume that I know about this stuff, and will sometimes ask me about saris, dupattas, and suits that I wear (though I certainly don't feel like an expert, by any means) but I realized that I often can answer them and that everything I know is either from your site or Chantal Boulanger's book! I always refer them to your site.Shalini

Alright, I have to blame you for getting me addicted to my sari! I love wearing it everywhere. I have one that I wear to tea with my friends that's casual and relaxing, and another I can wear to elegant dinners out on dates. When I first started wearing one downtown here, I was a little intimidated by the looks I got. There are also several Indian exchange students who wear saris frequently now that it's gotten so hot out. I was mortified to think that one of them might spot an error in my drape. To my surprise, nothing of the sort happened. I got lots of comments from women at tea on how pretty I looked. After a couple of weeks getting used to it, I feel like a goddess now. I almost wore one to my thesis defense, but I was afraid to fidget with it when I got nervous. What I love most, though, is that I never have to worry about the fit of my garment. I'm skinny, but also quite short, and I always have trouble finding summer clothes that fit me well and that I can feel modest in. But because the sari is so versatile and demands to be custom fitted, I never have to worry about the length or tailoring in the waist! (And the pallu serves as a perfect sun shade for my easily sunburnt paleness.)
I also found out that the graduation committee is going to let me wear something that's not the traditional black under my robes. I ordered a plum and cream/gold bordered sari from you that I'm in love with, and has been approved for wear under my robes. In fact, the robes hold the pallu in place perfectly over my shoulder, so I don't even need to worry so much about pinning it!
Thank you for your wonderful selection and informative web site. It is the only place I have found great instructions for wearing a sari in wraps other than the popular nivi style. I especially love the bengali and tamil pinkosu wraps; they're so comfortable and easy!
Sincerely,
Elizabeth G

Dear Melinda,
The peacock sari arrived today (I was starting to get a bit worried, but Easter might have delayed things a little) and I am just ecstatic about it! It has closed the circle, laid a ghost, and will give me untold pleasure. You have probably figured out by now from my previous note that I'm in my early 60s, and still hopelessly in love with saris - and why not, it is quite true that they make a woman look the most beautiful she can be. Thank you again for your wonderful selection,
Cynthia Harris

I love the choices you make and I am sure you know how amazed and admiring my Indian/American friends are when I wear such beautiful saris. Yes, they wear the glittery fashions but are proud to see me in handloom cottons. Nancy C

I just wanted to tell you I went through the new saris and WOW!! You did such an amazing job collecting these they're all just gorgeous, thank you so much for doing this every year I think it's a very important job that you do. Hopefully there will still be some of these saris around in July since I just started my henna business and the festival season has already ate up my money. Glad you're home safe and sound and that your saris arrived the same way. All the best.
Maggie

Your site brings tears to my eyes! I first went to India in 1979. I was blown away by the beauty and culture. From the start I wanted to wear "villager clothing" handlooms and cotton. My in-laws laughed, said I was a "Junglie" American girl. I am so glad that in my old age I can finally wear these wonderful sarees. The book of wrapping is being passed on to my new daughter in law (another "Junglie" American).
Shanti!
Rebecca

I've been meaning to share my summer sari adventures with you. Earlier this summer, I hit the Talbot Street Art Fair in Indianapolis, fully intending to shop 'til I dropped. Unfortunately, my experience was cut short by my less prepared companions, all of whom were whining about heat exhaustion. I, however, was cool as a cucumber in my lovely flowing Kota Doria pink. Their silly capri pants and knit shirts did them no favors. I have MS, so I guess I have more experience with core temperature maintenance; the sari is the perfect light-weight shade on-the-go (and you can more easily conceal cooling packs under your clothing with these drapes). Those weenies!
Last week, clad in my beloved orange Balarampuram, I was chased down by an Indian woman who wanted to know if I was from Kerala. Is India so diverse these days? Or perhaps I have enough Native American blood to pull off the ethnic look. Whatever my subconscious goals are, your fabulous collection has enhanced the experience. Thanks!
Claudia H

Dear Melinda,
The sarishop's new stock is wonderful! I spent my whole 2008 sari budget in less than a week with more than a dozen new saris from you! They have been arriving in bunches, and they are just beautiful. Gadwals, Venkatgiris, Kanchis, the embroidered one, that amazing green and sliver bengali tant (wearing it today)... I love the expanded regional groupings, and have tried to expand my own tastes a bit, going for colors and weaves I did not yet have. I'm looking forward to the tussar silk for here in Vermont, and the maheshwari and kalamkari prints will be new for me. I'm still craving a few more, but they'll have to wait a bit! (I love the siddhipet, but was too stunned by the gadwal gold, so, next time). I just wanted to thank you so much for Sarisafari, and the time and energy that goes into all aspects of it. Whether I'm buying or just wishing, it is always such a pleasure just to peruse the site.
Jennifer B

Dear ethnosariologist, The first time I stumbled onto your website it felt like one of those scenes in a silent movie where you open a door and a whole pail of fragrant goat's milk is spilled on your head and you don't know what hit you. But it was clear to me from the start that what you present is a very fragile universe of magical objects constantly changing and some vanishing. You are compiling an invaluable archive, whatever you do with it. There is definitely a book here.
Gini

Hi Melinda, How on the world is it possible for me to place an order on a Friday night and receive it Monday at noon in rural western Massachusetts? I'm sure there's some sari mojo working somewhere...maybe I'll go sacrifice some lentils for continued good works. Again, a happy customer.
Namaste,
Robin

Greetings Melinda!
Yesterday, I spent the day poking about the shops on Devon St. in Chicago, looking for the lovely cotton sarees like those I've purchased from you. Armed with names carefully recorded from your site (since I'm very definitely a novice!), I went from shop to shop, asking for help. To my amazement, none of the shopkeepers could provide anything in cotton beside a very granny's curtain-looking print, or pale pastel eyelets!
A few tried to sell me bedspreads! Not that they weren't helpful, but apparently cotton just doesn't sell in favor of the more stylish...polyester?!Most of their wares were rather garish, and Expensive, compared to the elegant beauty of your silks. So, I am back to our Sariwalli.The information you provide, the story you tell, as well as the beautiful quality of your treasures is well worth not being able to touch them beforehand!
Much appreciation and gratitude,
lisa

I got my sari in the mail today and I am so excited. I ordered it Friday at 3:45 pm and it arrived Monday at 9:30 am. I could not believe how fast it got here. When I opened the box I was overjoyed. The sari is so beautiful! The computer did not do it justice. It is more lovely than I imagined. This is the second sari I own and it is definitely my new favorite. I am glad I ordered it from you because I received a beautiful sari and I actually learned a lot too. Your website is great and I can't wait to order another one.
Lacey C
Get inspired with these pictures of the beautiful sari sisters.
Pick your own saristyle in the sari shop.